Technology Service & Support
Both walk-in and drop-off support are available at the Technical Support Desk located within the University Store on Fifth. Stop by during our normal business hours to meet with a CSSD technical consultant, or call the Help Desk (412-624-HELP) in advance to schedule an appointment.
We can help students, faculty, and staff connect to Wireless PittNet, configure your smartphone or tablet to receive My Pitt email, install Microsoft Office, or change your password. We can also help students remove viruses, connect to Pitt printers, install or repair software, and fix or even rebuild operating systems.
Read More About Our Services and Hours of Operation
---
Visit the Repair Center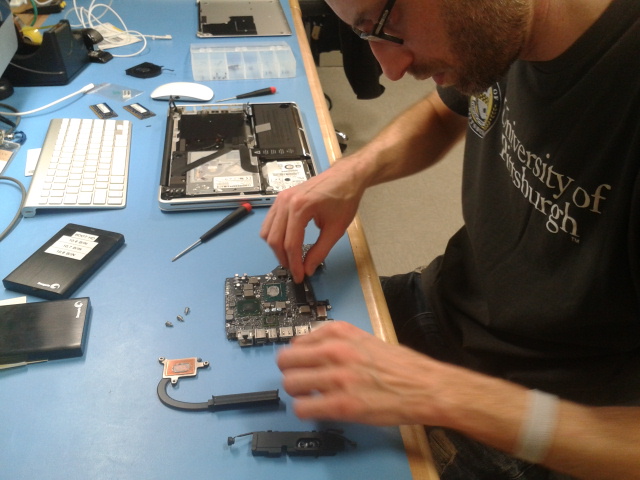 Our repair center can service Authorized Apple hardware within or outside of warranty; and also Dell hardware outside of warranty.
---
Services and Repairs include:
Apple Computers
Out of Warranty Dell Computers
Diagnostics
Hard Drive Upgrades
Ram Upgrades
Data Backup
Data Transfers
iPod and iPad Repair
Out of Warranty Dell Tablet Repair
---
Repair Center Hours of Operation
Monday: 10:00am - 5:00pm
Tuesday: 10:00am - 5:00pm
Wednesday: 10:00am - 7:00pm
Thursday: 10:00am - 5:00pm
Friday: 10:00am - 4:00pm
Saturday: 11:00am - 4:00pm
---
Contact the Repair Center
Phone: 412-648-1588
Email: service@bc.pitt.edu