Printing Serviecs
The Printing Services Service Center offers a range of services including Print Order Assistance, Online Order Assistance, Quick Copy, Coil and Comb Bind, Staple, Trim, 3D Printing & Self-Publish Book Service.
Hours of Operation: M-F 8:30am-5:00pm
Until further notice, the Printing Services Service Center at the University Store on Fifth will be closed daily from 12:30 to 1:30 PM.
MarkerBot 3D Printer
Watch your ideas take shape on our MakerBot® 3D Printer!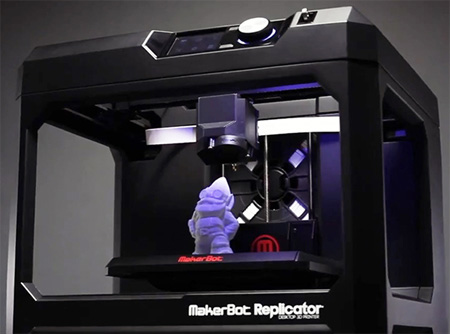 ---
Choose from thousands of pre-made designs from the "Thingiverse" or submit your own 3D models. Personalize your creation by using your choice of filament colors.

Printing On Demand
The EBM is connected to EspressNet, a unique network of millions of titles that are formatted to print instantly on the EBM. Many of these titles are public domain works digitized by Google. Others are scholarly works, books published by small presses, and out-of-print titles. Pricing on these books depends on physical production costs and any related copyright fees/royalties
To browse for books, please use the Espresso Book Search feature below. Because of the number of available titles, it is sometimes difficult to find the exact title you are looking for.
If you are having trouble locating your desired title, please contact us at Bookmachine@bc.pitt.edu or call 412-648-1461.