Why Order Your Own Academic Regalia?
Every year, hundreds of educators discover the many advantages of owning their own caps, gowns and hoods. Convenience, of course, is partly responsible for this growing trend. Everyone appreciates having their regalia ready at a moments notice, for every academic ceremony, baccalaureate, convocation or speaking engagement. And owning means an end to ordering and returning countless rentals. There is also pleasure in looking your best with a gown that is custom tailored to your measurements, a perfect fit at all times. Owning also allows you the freedom to select a premium fabric not available in rental gowns while saving the cost of those repeated rentals. Your Oak Hall academic regalia is as personal to you as the honor it represents. Many colleges and universities have established their own distinctively different designs and colors for their academic regalia. Oak Hall has been privileged to assist many presidents, trustees, and regents in the design of special regalia for their school.
Please note that academic hoods use the official Pitt academic colors and are navy and dark gold.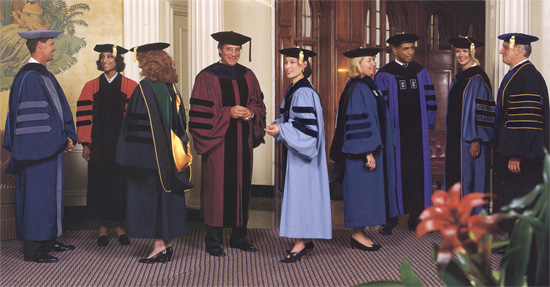 ---
Custom Academic Hoods:
Academic hoods are designed to represent your scholastic degree, discipline and Alma Mater. The official design of the academic hood has been specified by the American Council on Education. The velvet trim represents your discipline and the satin lining represents the official colors of your College or University.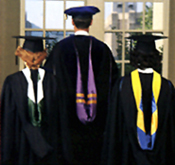 Custom Academic Caps:
The traditional mortarboard cap and dignified velvet tams are carefully tailored to complete your Oak Hall gown. Tams are available in eight, six and four corner styles. Choose from the traditional silky tassel or the Doctoral two button tassel which is available in the metallic or silky style.
---
Pitt Custom Regalia:
Gown
Our Custom Regalia Gown Features the Following:
Minimal pleating
Detailed, ornate stitching
No right side slit
No inner sleeve
Venture Material in Dark Blue:
Highly stain and wrinkle-resistant material
Navy velvet panels, and chevrons, outlined in Pitt gold cording
$568.00 +tax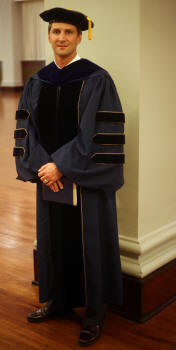 Hood
Venture Material:
• Navy portion of hood
Exterior Velvet Color Denotes Degree:
PhD - Royal Blue
PhD - Royal Blue
J.D. - Purple
$155.00 +tax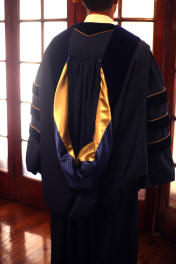 Velvet Tam
Navy Velvet
Six-Corner
Attached, Two-Button, Silky Tassel
$110.00 +tax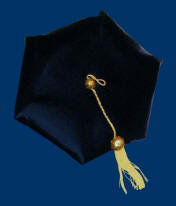 Academic Regalia Order Form Information:
Custom regalia is available year-round in the Pitt Apparel and Gifts Department at The University Store on Fifth. Below you will find a link to an order form in PDF format. Please email all orders to specialorders@bc.pitt.edu. We will verify the form and call you if additional information is needed. Please call us at (800) 648-1451 if you need any assistance.
Please Note: Custom Regalia orders must be placed no later than seven (7) weeks before the designated need-by date to ensure timely arrival. The cut-off date for ordering your custom regalia is March 26, 2021 for Spring Commencement. All subsequent rush orders will be reviewed (for approval or non-approval) on a case-by-case basis.