Textbook Rental
Many students are only interested in using certain textbooks for the duration of a class. Renting for a semester typically costs less than half of the New book price.

Renting removes the risk of how much the book may be worth at the end of the semester, and you can capture the savings up front instead of waiting for Buyback Period at the end of the term.
Renting provides a lower up-front cost. In some cases, it can be less expensive to buy a used text (when available) and sell it during Buyback period.

There is always the chance that the text won't be bought back if a newer edition is published or if the professor switches to a different book.

Buying a new book and selling it back at Buyback will generally be more expensive than renting.
View the
Textbook Rental Terms & Conditions
If you decide to keep the book, you can purchase it at any time during the rental period. The purchase price would be the difference between the New rental fee and the current New selling price, or the Used rental fee and the current Used selling price, based on whether the book was rented in New or Used Condition at the time of initial transaction.
---
Students returning textbook rentals by mail can ship them to the University Store via UPS.

Please follow the steps below:

1. Request a shipping label by emailing us at [email protected].
2. Package textbooks for shipment, including your name, PeopleSoft or Student ID #, and contact information (email and phone number).
3. Send package to The University Store on Fifth using the shipping address listed below:

Attn. Textbook Returns
The University Store on Fifth
4000 Fifth Ave
Pittsburgh, PA 15213
---
Textbook Rental FAQ
How to Rent:
Refunds & Returns:
Other: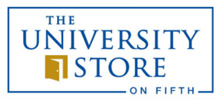 Please enter search criteria