Orders & Shipping
Order Processing
Orders are shipped via UPS, and will be delivered according to the UPS transit time guarantee for the level of service selected.
Within the continental United States, you can generally expect to receive your purchase within 5 business days or fewer of the order being shipped.
Transit times for UPS Ground, the most economical level of service, can be viewed on
this map
.
Please provide a valid street address as UPS does not deliver to PO boxes. Orders that are not accompanied by a valid street address will be subject to an additional delay until an appropriate address is obtained.
---
Shipping Rates
Ground Shipping
$7.95 (for orders under $75.00)
Free Shipping
Free shipping on orders $75.00 and above. The following exclusions apply:
Computers/tablets, diploma frames, captain's chairs, and select large-sized items are not eligible for the 'Free Shipping' promotion and are subject to their respective shipping charges, regardless of the total value of the order:
Shipping charges are non-refundable.
Please contact the store order with any inquiries regarding shipping costs before placing your order.
---
Order Tracking
If you provide an e-mail address, a tracking number will be automatically sent to you when your order is shipped. Use this number to check the status of your items while they are in transit by visiting the UPS website at
www.ups.com.
---
Order Pick-Up
Order online and pick-up your items at the Information Desk or Pick Up Window facing the Quad.
Please check our
Store Hours
page for most current Window times.
Residence Hall Delivery
Students who live in university housing can select free delivery to their on-campus residence at checkout. Orders will be delivered to the Student Mailroom or Mail Center within 48 hours of order placement.
---
Textbook Purchases
Order textbooks in advance
online
or visit the store's Information Desk to place your order. A staff member will secure books for your use.
Please allow 24 - 48 hours for online order fulfillment. A second confirmation email will be sent when your order is ready to be picked up.
---
Returns
Returns must be received within 30 days from the date you receive your order for general merchandise and 7 days from the date you receive your order for textbooks.
Textbooks are not returnable after the add/drop period for each term.
All returns must be shipped pre-paid.
Returns must be accompanied with a receipt.
Merchandise is not returnable after 30 days, and 7 days for textbooks.
If your item was damaged during shipping, please email us at
[email protected]
or call 412-648-1455 as soon as possible so that we can work with you to resolve any issues.
---
Taxes
In accordance with the the United States Supreme Court's decision in South Dakota v. Wayfair on June 21, 2018, we are required to collect and remit sales tax to certain localities applicable to this law. The University of Pittsburgh does not benefit from the collection of sales tax and we remit all taxes collected directly to the appropriate taxing jurisdiction.
Orders shipped to Maryland, New Jersey, Ohio and Virginia will have all applicable state and local sales tax added to your total order.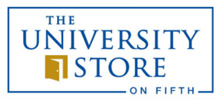 Please enter search criteria