The University Store on Fifth accepts returns for a full refund up to thirty (30) days from the original purchase date (exceptions apply*). All returns must be accompanied by the original sales receipt. Online orders or items that need to be mailed should be addressed to:
The University Store on Fifth
Attn: Order Fulfillment
4000 Fifth Avenue
Pittsburgh, PA 15213
Clothing must be returned within thirty (30) days of purchase. Items must not be worn or washed and must contain all original tags. Special order items and custom regalia are not eligible for return.
General merchandise must be returned within thirty (30) days of purchase. Items must be unopened with the original packaging intact and contain all manuals and warranties. We are unable to accept merchandise that has been removed from the packaging. Defective merchandise will be replaced.
Tech products (including computers and smart watches) that have been opened, customized, or configured are not returnable. Tech products may be returned within seven (7) days in original packaging and will be charged a 10% restocking fee.
*Refunds will be issued in the same form as the original purchase. Cash and check refunds in excess of $300 are handled via check by mail and may take up to ten (10) working days to receive.
*All shrink-wrapped items are non-returnable if opened.
*The return of some products may be restricted as stated in the manufacturer's warranty. Products with warranties should be returned to the manufacturer according to their directions.
*The University Store on Fifth reserves the right to refuse a refund for any merchandise.
If you have any questions regarding a return, please call us at: (412) 648-1455.
Privacy Policy
We maintain administrative, technical and physical safeguards to protect your personal information. This includes encrypting your credit and debit card number. We do not sell nor share your personal information with anyone.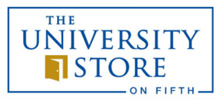 Please enter search criteria