Our Statement on Social Justice
We at the University Store on Fifth stand in solidarity with communities in struggle against systemic racism and police brutality. We are committed to being part of the solution to create systemic change and end racial injustices. Black Lives Matter.
As the University bookstore, we seek to provide a safe space where access to ideas and conversations about those ideas can take place in an uninhibited way.
Throughout the academic year, we are committed to the following actions:
1. We will curate a Black Lives Matter book display featuring books inspired by the movement to support learning and awareness.
2. We will expand our African American studies section and actively promote texts on antiracism, systemic racism, and social justice.
3. We will host and participate in campus events that focus on antiracism and social justice. In this effort, we will partner with University institutes with related missions and visions.
4. We will create a Pitt t-shirt in support of the Black Lives Matter movement.
5. We will explore ways to deepen our ongoing professional development focused on cultural competency in customer service.
The University Store on Fifth is committed to being part of the solution. We invite you to engage in this work with us and hope that our steps will encourage others to take action for equity and justice.
In solidarity,
The University Store on Fifth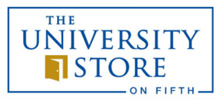 4000 Fifth Avenue
Pittsburgh, PA 15213
412-648-1455
Please enter search criteria