---
Buy Your Official Pitt Regalia Today
Wear your Pitt pride on your sleeve when you purchase your official regalia for graduation. Celebrate your achievement and embrace the tradition!
The University Store offers a keepsake standard regalia option for Bachelors, Masters, and Doctorate graduates. Keepsake regalia is available to purchase in person at our store or online with an option to ship to your home. Stop by today! If you want to pick up your regalia at the University Store please contact us via phone at 412-648-1455 or email us at [email protected] to receive a link for payment and pickup information.
Click here to order your regalia today.
Regalia Pricing:
Bachelor: $55
Master: $59
Doctor: $72
Please note that academic hoods use the official Pitt academic colors and are navy and dark gold.
How to Wear Your Pitt Regalia
Recycling Your Pitt Regalia
Bachelor's and master's regalia from the University Store are made from recycled PET and can be recycled after graduation through a special regalia recycling program at Pitt. The University of Pittsburgh's regalia is provided by Oak Hall, which manufactures caps and gowns made of 100% post-consumer recycled PET (the most common plastic material used in products like plastic bottles, food containers, and clothing fiber). Using recycled PET reduces manufacturing emissions by 55% and uses 50% fewer petroleum products that traditional polyester.
If you decide you don't want to keep your cap and gown, recycle your regalia after graduation at any of the University Stores, April 30 through May 31 – just look for the regalia recycling collection bins. Caps and gowns collected through the program are recycled into rugs and animal bedding.
---
Order Custom Regalia
Pitt Doctorial Regalia is unique to the University, following a grand tradition of universities choosing designs and colors to make their doctorial regalia uniquely their own. Our custom Pitt Doctoral Regalia is specially made for you, and we use high-quality fabric with a design hand-selected by the University's leadership. Available for all Doctoral graduates and alumni, these custom robes will help you represent your alma mater for years to come!
The order date for Spring 2021 Commencement has passed, but you can order your custom robes for future commencements today.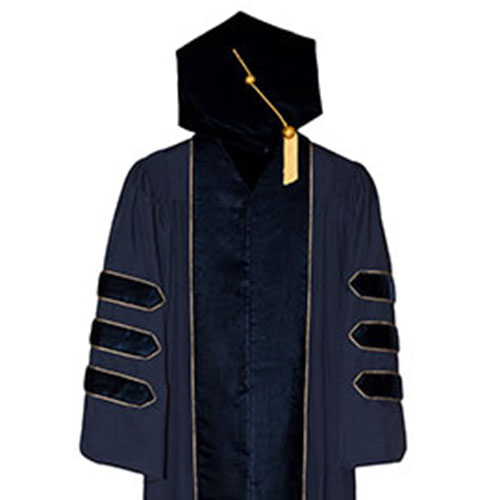 ---
Pitt Custom Regalia
Custom Academic Gown
Our custom regalia gown is made of venture material in dark blue. It is highly stain and wrinkle-resistant material and features navy velvet panels and chevrons, outlined in Pitt gold cording.
Minimal pleating
Detailed, ornate stitching
No right side slit or inner sleeve
Custom Academic Hood
Academic hoods are designed to represent your scholastic degree, discipline and Alma Mater. Pitt hoods are made of navy venture material, while the color of the exterior velvet denotes degree.
Venture exterior
High-quality satin lining
Plush-velvet degree color
Custom Academic Tam
The traditional velvet tams are carefully tailored to complete your Oak Hall gown. Tams feature:
Navy Velvet
Six-Corner
Attached, Two-Button, Silky Tassel
---
2021 Commencement
The University of Pittsburgh plans to host a combination of in-person and virtual ceremonies for the Class of 2021. A maximum of two guests per graduate will be permitted to attend these in-person events. In order to properly maintain physical distance between graduates, guests, faculty and staff, several ceremonies will be hosted over multiple days. All ceremonies will be streamed online to encourage families and friends to watch and celebrate virtually. Some schools have opted for virtual ceremonies based on feedback from graduate and professional students. Click here for ceremony dates and to learn more.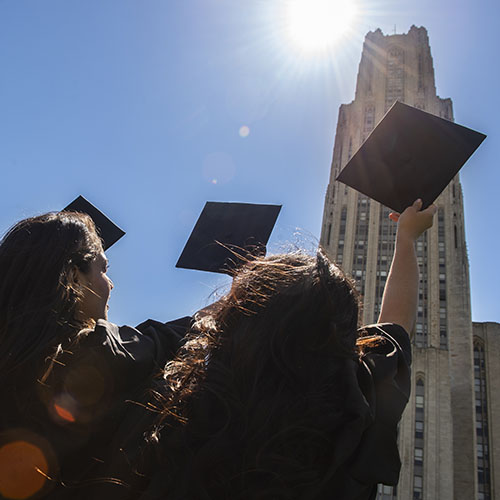 ---
2021 Graduation Central
Due to the ongoing COVID-19 pandemic, 2021 Graduation Central has been canceled, but we still have all you need to celebrate your special day! You can order your regalia, class ring, and announcements on this page, or stop by our store on Fifth Avenue.
Honors Cords
The University Store on Fifth is proud to provide honors cords to Panthers earning the academic level of Honors as their final GPA. The cords are provided free of charge, as a gift to commemorate graduates' academic achievement.
On-campus students, please stop by the store pick-up window at your convenience to claim your cords. Find our full hours of operation.
If you have already left campus and would like your honors cords mailed, we can ship them to you for $5.00. Click here to place your delivery order.
---
Pitt Class Rings and Diploma Frames
The official University of Pittsburgh class ring symbolically commemorates the unique lifelong connection alumni have to Pitt. Students who purchase a class ring are making an investment that will last a lifetime. This ring is a tangible connection to your alma mater: a reminder of what it means to be a Panther that you will carry with you on every step of your life's journey. Shop for your ring today!
Show off your accomplishments with a diploma frame! We offer a variety of styles to choose from. Shop now!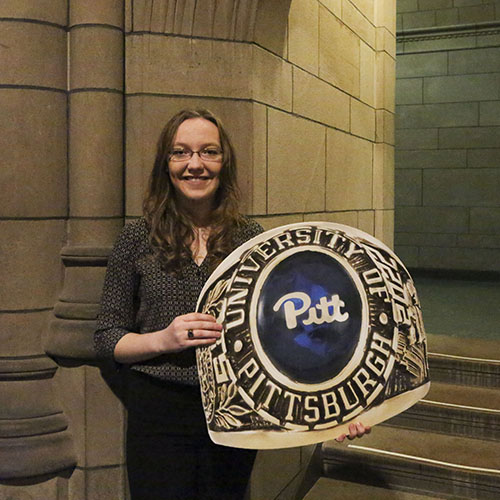 ---
Purchase Announcements
These custom printed announcements must be ordered 8 weeks in advance to ensure enough time to receive and mail announcements before graduation. Announcements may be ordered online by clicking here.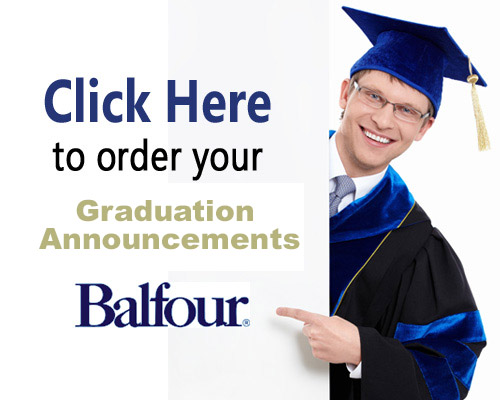 ---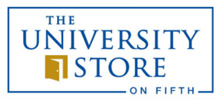 4000 Fifth Avenue
Pittsburgh, PA 15213
412-648-1455
Please enter search criteria