The University Store on Fifth, owned and operated by the University of Pittsburgh, is a unique store which provides a wide variety of in-store and online merchandise and services, catering to the University of Pittsburgh community, as well as residents of and visitors to Oakland and the wider Pittsburgh area.
Guests who visit the "UStore" can browse a large selection of general books, including national bestsellers, local and University of Pittsburgh authored titles, a wide assortment of children's books, and popular and scholarly categories.
Our knowledgeable staff and student workers stand ready to help all of our guests find the appropriate technology and accessories, select the perfect gift for a friend or colleague, purchase spiritware and apparel for the Pitt enthusiast, or obtain the appropriate graduation or medical school attire.
Services
The University Store has an experienced team available to assist University Departments and the Pittsburgh community with their on-site or off-site events. This service includes providing relevant books or merchandise for sale, supplying staff, and helping to locate the perfect venue. We will organize and provide materials, refreshments and space for book signings and launches, book clubs, reading groups, children's activities and more.
Mission
For the University community, our mission is to ensure that students, faculty and staff have the tools necessary to successfully navigate their Pitt experience, celebrate Pitt, support the University lifestyle, and manage day to day requirements
Inside the Store
The UStore houses one of several Information Technology help desks, where Student Technical Consultants are available to provide technical support to students living on campus and off campus. Service is provided by appointment or walk-in. Appointments can be scheduled by contacting the Technology Help Desk at 412-624-HELP [4357].
University students, faculty and staff can stop by the Center for Creativity (C4C) and nurture their creative spirit through writing, painting, playing music, or any number of creative outlets, employing a variety of media: clay, yarn, paper, you name it! The Center for Creativity is a place where members of the Pitt community can go to think through questions or problems by engaging hands and minds in making things.
Next door to the C4C is the Textbook Department, which carries all of the required and recommended texts for all of the classes offered at the University of Pittsburgh main campus in a given term. Textbooks are accessible in formats ranging from new, used, in-store rental and eText, when available. In addition to our in-store service, students can opt to use our on-line textbook comparison service to compare our prices/platforms with a variety of other major textbook vendors. Books ordered through the University Store can be sent to an address provided, delivered to on-campus dorms, or made available for pick-up in the store, at our students convenience.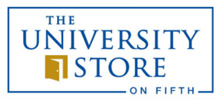 Please enter search criteria